Millions of combinations – individuality for your feet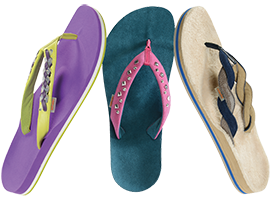 Everyone recognises their own individual footprint in the sand. The sensation of walking barefoot on soft ground evokes feelings of relaxation and well-being in many people.
This feeling is also reflected in the NovaPED exclusive flip-flops from schein. In contrast to conventional flip-flops, customised NovaPED exclusive flip-flops provide the foot with sufficient purchase and support, while also being convenient and comfortable.
However, it is not only wearing comfort that makes the whole concept impressive: individual design options, such as exclusive Swarovski jewels, lambskin lining or laser engraving in the heel covering of the flip-flops are just a few of the many special extras.
Individual, elegant and exclusive: a tailor-made concept that makes a great impression through the high-quality of the product and the individual tastes and desires of the customers.
The highest levels of wearing comfort and design